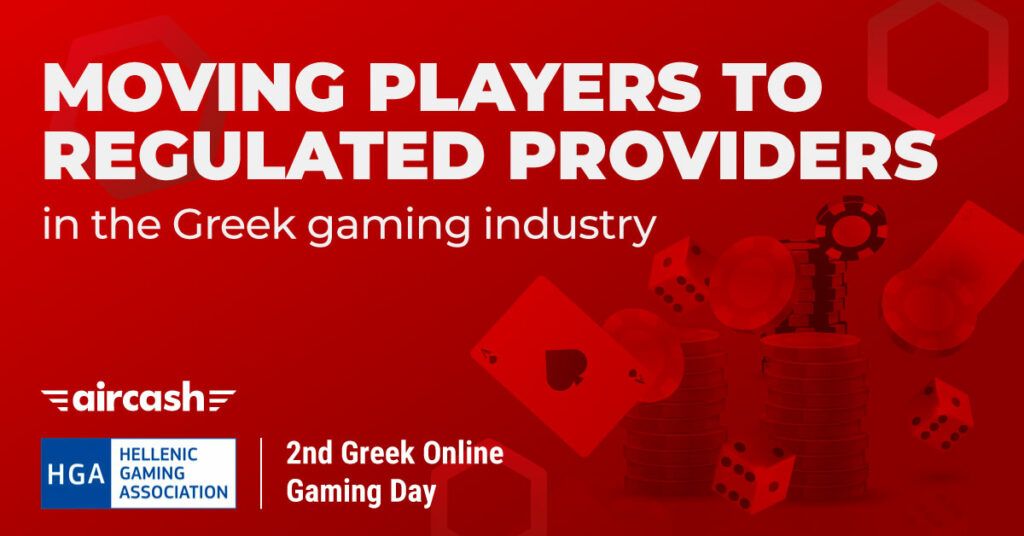 A new payment partner in the Greek Gaming market, contributes to positive change in three ways: by channeling customers towards licensed and regulated gaming providers, by ensuring that existing regulations are adequate, and by developing a wide range of services and products to keep existing players, but also to onboard new players.
The 2nd Greek Online Gaming Day conference, which took place in Athens, brought together the most important participants from the Gaming industry in Greece as well as renowned experts from all over Europe, like Dimitris Dzanatos, President of the Gaming Supervision & Control Commission (GSC), Thomas Tzokas, CEO of winmasters and Panagiotis Skyrlas, Chief Compliance and Information Security Officer of Novibet. The conference was organized by the Hellenic Gaming Association independent administrative authority.
Aircash participated as a regulated and licensed EU e-money institution and Payments partner, providing services like  Instant cash deposits, and withdrawals and an innovative promotions platform to attract, retain, reactivate, and engage players on Gaming platforms.
Contribution to quality in the regulation of the Gaming market
The main goal of the conference is to promote a safe and well-regulated gaming market. The black market poses the greatest threat to all stakeholders, including state budgets, regulators, consumers, and licensed service providers that abide by the rules.
Aircash is actively working to ensure high-quality standards in the Gaming market vertical. Its' KYC and AML processes, including an in-house built AI system designed to detect fraudulent transactions based on a Machine Learning model and a Liveness detection system, ensure a verified user base, while its full-proof payment method protects all parties involved.
Adhering to all relevant market regulations, Aircash offers a safe way to transition players to a legal market while providing multiple benefits to them, including services like money transfers, transport services payments (vignettes, parking, bus tickets etc.) and Telecom prepaid voucher purchase. Direct payment from Aircash to gaming platforms ensures transparency to the Gaming provider with KYC and AML processes.
This makes Fintech an additional layer of protection that ensures customers with legitimate interests and behavior are making deposits or withdrawals towards and from gaming accounts.
 "Balance and proper regulation is the key to market success"
Aircash representative Josip Tolić, Head of Regulatory and Government Affairs, during the 2nd Greek Online Gaming Day said:
"2nd Greek Online Gaming Day confirmed that Greece has taken significant steps towards a well-balanced and well-regulated Online Gaming Market. Although this is an ongoing process with a lot of challenges, it seems like the Online Gaming Market in Greece is heading in the right direction at this moment. Definitely, the conference was an excellent opportunity to discuss the current market situation, but also to meet and establish proper communication and exchange views regarding future trends with all relevant stakeholders within the industry."
Aircash presents a trustworthy and secure option for all gaming partners and continues to work in accordance with all active market regulations using best practices and guidelines, by offering a user-friendly payment method, anti-fraud protection, and a secure gaming environment, all of which are crucial in the digital age.