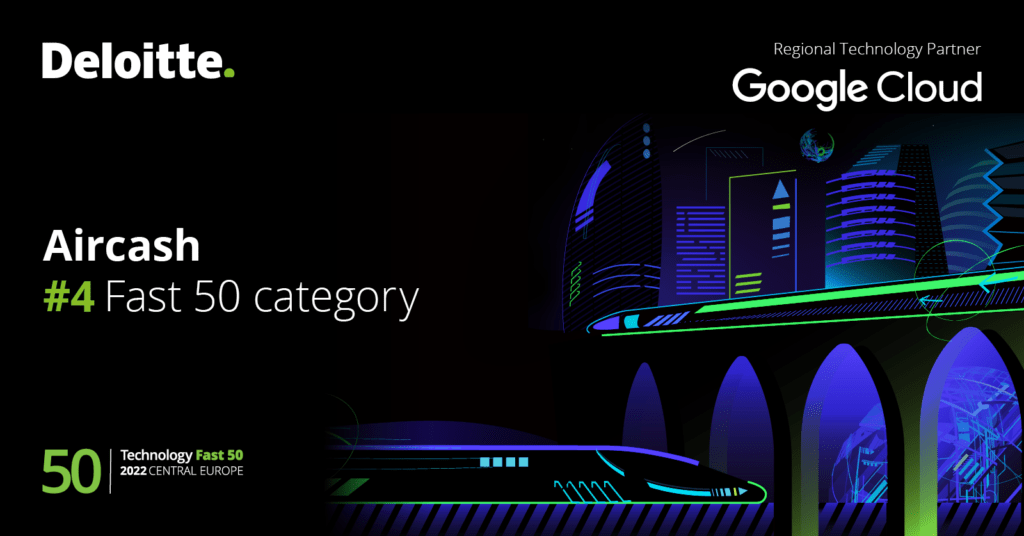 Every year, Deloitte honors fast-growing tech-companies that impress with breathtaking growth rates.
The Technology Fast 50 Central Europe Programme detects fastest-growing tech companies in Central Europe according to the fastest revenue growth in the period of four consecutive years.
This year, Aircash achieved 4th place and is recognized as the leading Central European Tech-company with nearly 6,000% growth in revenue.
As stated by Jiri Sauer, regional manager of the Deloitte Technology Fast 50 program for Central Europe, this year was the most competitive in 23-year Programme history. "I must admit I thought that last year's record would never be broken. The fact that this happened so quickly is a strong testament to the growing importance of tech companies in the economy as a whole.", Sauer said.
The success of this year's Program, which broke the record for the most applications, speaks of the potential of the companies on the list. Aircash company is recognized as top five fast growing tech-companies in the Central European region among almost 400 other companies from Central European region that entered this globally recognized programme.
There were four criteria for entering The Programme: being in business of a minimum 4 years; being a technology company with own proprietary technology sold to customers in products that contribute to a majority of the company's operating revenues; having base-year operating revenues of €50,000 in 2018, 2019, 2020 and a current year operating revenue (2021) of at least €100,000; and finally to have a headquarter within Central Europe. With this programme, Deloitte honors fast-growing tech-companies with breathtaking growth rates.
"Being in the top five of the fastest growing companies in Central Europe just a few years after our foundation is a great wind at our backs. It is not easy to radically and permanently change the way a traditional industry functions, and these recognitions are an indication that we are going in the right direction.
The fact that this year we left Croatia for several new EU markets (Slovenia, Austria, Germany, Romania) had a significant impact on our growth, and further expansion plans will further strengthen our global position. The high 4th place in this year's ranking of the 50 fastest growing private or public technology companies in Central Europe is an important recognition of our company by the global auditor-consulting company Deloitte." Hrvoje Ćosić, Aircash CEO said.
Such placement recognizes our dedication, hard work and inovation that we bring into the FinTech industry. Our focus is always on our users – to bring them fast, effective and modern financial service.